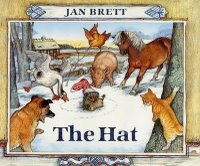 Objective:
The third grade students will cooperate to perform a Reader's Theater presentation of "The Hat" by Jan Brett.
NYS Art Standard 1: Creating, Performing, and Participating in the Arts
NYS ELA Standards 2 and 4
NYS MST Standard 4: Science
NYS MST Standard 5: Engineering Design and Tools
NYS Social Studies Standard 3: Geography
Materials:
Guide to "The Hat" Reader's Theater
Actors and Actresses
Clothesline and clothes
Jan Brett Masks
Materials to build the set- including Hedgie's house
Copy of the script
Procedure:
Read "The Hat" by Jan Brett, referring to our past stories we have read and the illustrations we've looked at. Be sure to note the borders in "The Hat" because we have not seen so many predictions yet in our Author Study.
Introduce Reader's Theater and explain that you're putting on a play based on a book.
Assign parts, build the set out of common materials, and rehearse the play.
Perform for another third grade class at the end of the day.
Follow-up Activities:
Learn more about Denmark
After the success of the first performance, practice a little more and put on a performance for other classes in the school.
Use magnifying glasses to describe the illustrations in "The Hat." Make comparisons to our other describing words so far.
Make a Hedgehog Book!
Fun Facts About Hedgehogs
Jan Brett talks about her Hedgehogs and teaches you how to draw one!