Click on a link to preorder Jan's book at your favorite store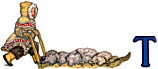 he Goldilocks story takes a fine twist when an endearing snow bear family and a curious Inuit girl meet center stage in Jan Brett's stunning paintings of a land where the Inuits and the animals share the amazing Arctic landscape.
When Aloo-ki loses her sled dogs, her search for them leads her to an igloo. She can't resist peeking inside...and then she can't resist the smell of something delicious...
While Aloo-ki is making herself at home, Papa, Mama and Baby Bear are out walking, waiting for their breakfast to cool off...and who do you think they find?
In the borders, playful Arctic animals in parkas inspired by original Inuit designs have a mischievous time as the lively story bounces back and forth between the snow bears and Aloo-ki until they come face-to-face.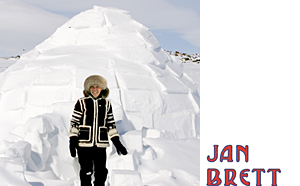 and her husband, Joe Hearne, traveled to Iqualuit, capital of the Nunavut Territory in northern Canada, to meet the Inuit people, where wonderful experiences awaited them.
An Inuit family welcomed them, the mother wearing a beautiful warm parka she had made. In a school, Jan saw the many intelligent, proud faces that became her inspiration for Aloo-ki. And in a town called Pangnirtung, famous for its people's art, Jan marveled at images of Arctic animals in Inuit clothes and felt a door had opened.
A trip across Frobisher Bay by dog team to see an igloo had Jan worried that the dogs would be all business. "But they were so glad to see us that they exploded with rascally fun and energy, their fluffy faces seeming to smile at us," Jan says.
Finally an invigorating forty-mile ride along a frozen fjord with steep mountains on either side and a climb on foot up to the Arctic Circle marker left Jan awestruck as they looked out over a frozen landscape. "We felt as if we were standing on top of the world."

Shortcut to Hedgie's Book a matic